Well, There's quite a few title strip creators available on the internet and I've been using them for quite a while.  They all work pretty well.  So why create another one?  Well, I really wanted to have a custom image put on a strip for my Christmas song selections this year.  That's it.  Once I started doing that, well, I took it a bit farther and combined some of the best features of a variety of the available options.  I freely admit that this is based on code originally generated by others.  If you'd like my code, I'll freely give it to you as well.
Features I've added:
Ability to save and load the text associated with the files
Enhanced color selector.  Default colors as well as any color you want.
Ability to have the strips butted up together, or spaced out.
A variety of strip formats
Ability to put images on individual strips.
Ability to enter a url pointing to custom images to include.
Isolated Desert Compound Jukebox Title Strip Creator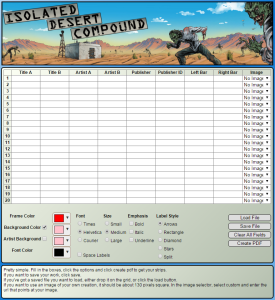 If you find that there are any features you might want added, let me know and I'd be happy to consider it.